K. Ogawa (Publisher and Photographs)
Photographs of the Funeral of the Meiji Emperor, Tokyo, published by K. Ogawa, 1912 ( Taisho 1), 4to (9 x 12 in - 22.5 x 33 cm), decorated card covers, silk stab ties, title page in Japanese, 1 page of text in Japanese, 1 page plate listing in Japanese only, 37 full page black and white halftone plates including the first plate which is a photograph of Meiji Emperor protected by a tissue guard, spine uncovered, 44 pages in total. Each photograph plate is printed in black and white halftone on one side of thick glossy paper and is captioned in English and Japanese. Only the photograph of the Meiji Emperor is protected by tissue guard. The image area of plates 1-36 is 6 1/2 x 8 in - 16 x 22.7 cm. The book reads from back to front in Japanese style.
The covers consist of thick card stock covered by a thin green paper. The front cover has the Japanese title and K. Ogawa in Japanese in black and silver decorations. The back page has a colorless wreath blindstamped in the center.
The book is divided into three parts as follow:



Part I.     Scene from Palace at Aoyama (Plates 1-16, 16 Plates).
Part II.    Scene at Aoyama (Plates 17-25, 9 Plates).
Part III.   Scene at Momoyama (Plates 26-36, 11 Plates).



The Meiji Emperor died July 30th, 1912. By tradition, his funeral was held 45 days after his death. The funeral was held on September 13, 1912. This book was printed on September 26 and published on September 29.

While I am not positive, I believe the Japanese title for this book is Gotaisogi Shashincho.


Title Page




Text Page, Japanese Text Only



Plate Listing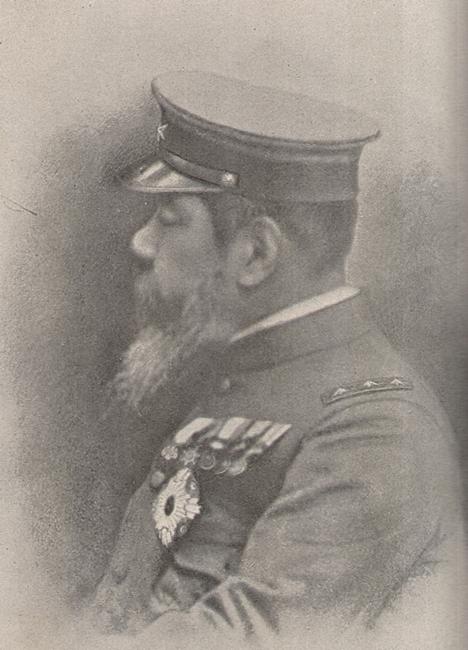 "Latest Photograph of the Meiji Emperor"

Part I (16 Plates Total)









Part II (9 Plates Total)









Part III (11 Plates Total)











Colophon

Printed:   Taisho 2 (1912).9.26
Published: Taisho 2 (1912).9.29


Close-up of Halftone Printing



Collation

Title Page (1)
Text Page (1)
Plate Listing (1)
Meiji Emperor Plate (1)
Part Dividing Pages (3)
Plates (36)
Colophon (1)