The American Graves
at Shimoda

There are several early depictions of the graveyard at Shimoda where a marine from the Perry Expedition to Japan was buried in 1854. Over the following years more and more Americans were laid to rest there. The below illustrations are found in various early publications and depict the American grave(s) at Shimoda.
1. Graphic Scenes of the Japan Expedition by William Heine, Plate #10 - Graveyard at Simoda Dio Zenge (colored) (1856).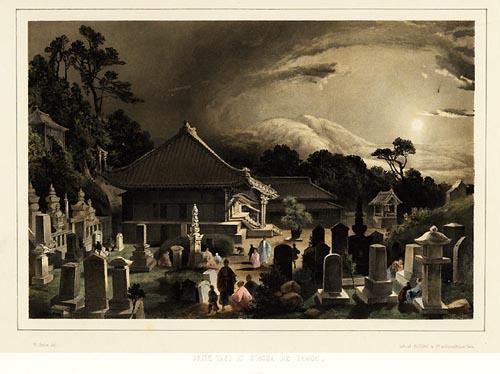 Click the picture for image
of complete lithograph
This is Plate #10 from the very limited edition book by William Heine that was published in 1856. The lithograph is printed on fine wove paper and mounted (tipped) on printed a card which has the title printed on it. These prints are approximately 50% larger than those that are published in the Narrative of the Expedition. This print was handcolored rather than color tinted in the lithographic process. These prints are much finer and of higher quality than those published in the Narrative of the Expedition.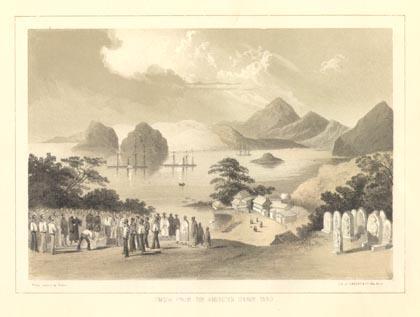 Commodore Perry visited the newly opened port of Simoda on the 18th of April, 1854. He remained there until the 9th of May. While in Simoda a marine (21 year old G. W. Parish) died in an accident aboard the Powhatan. Japanese authorities granted the request for burial in Simoda and the burial took place in a plot in the village of Kaki-zaki on May 5, 1854. This is a lithograph from the official Narrative of the Expedition depicting the grave of the American at Simoda. Prominent in the background you see the steamships Mississippi and Powhatan. Other ships that went to Simoda included the Southampton, Supply, Vandalia and the Lexington.



3. Our Navy in Asiatic Waters by William Elliot Griffis, Harper's New Monthly Magazine, October, 1898.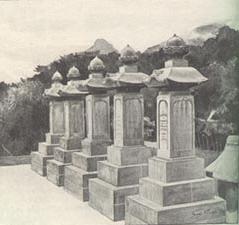 In an 1898 article in Harper's New Monthly Magazine, a total of five American graves are shown in the Shimoda graveyard. They had fallen into disrepair and were restored by an American missionary.

To see the American graves at Shimoda as they exist today, you can visit this Pacific Stars and Stripes webpage.

Currently the graveyard has 8 foreign graves - 5 Americans and 3 Russians. For information on the cemetary and the Zuiryuzan Gyokusenji Temple where it is located, click here.