Sumo Wrestling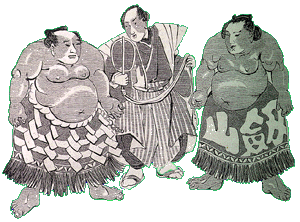 Perry Expedition to Japan, 1852-4
Once the treaty was concluded, the Japanese presented gifts to the US party and provided entertainment. This occurred on March 24, 1854. The Narrative notes:
While contemplating these substantial evidences of Japanese generosity, the attention of all was suddenly riveted upon a body of monstrous fellows, who tramped down the beach like so many huge elephants. ... They were some twenty-five in number, and were men enormously tall in stature, and immense in weight of flesh. ... Some two or three of these huge monsters were the most famous wrestlers in Japan.... Koyanagi, the reputed bully of the capital, was one of them, and paraded himself with the conscious pride of superior immensity and strength.
The Americans were treated to sumo wrestling by all twenty five wrestlers.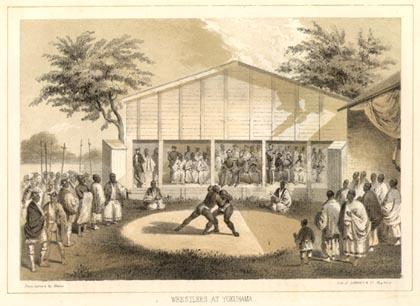 A lithograph from the Original Narrative of the Expedition
The lithograph shown above is generally in stock. To see if it is available and order it on-line, click here and look for lithograph 371.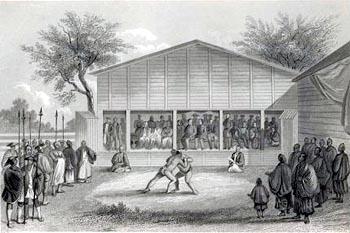 A steel engraving of the same scene from
an Appleton Abbreviated Narrative

Bayard Taylor accompanied Perry to Japan and subsequently wrote extensively about Japan. Below is a an illustration of a Sumo match found in Taylor's 1872 book, Japan in Our Day.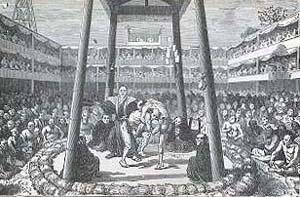 Sumo Match
Illustration from Bayard Taylor's 1872 Book